EDUCATION THAT INSPIRES
INSPIRE Goes Home
The work of inspiring the next generation of engineers doesn't stop just because schools closed in response to the coronavirus pandemic. By making our award-winning INSPIRE STEM Readiness program available online for use at home, ASME made it possible for K-12 students to continue to discover the limitless potential of an engineering career.
In fact, pandemic or no, INSPIRE enjoyed one of its best school years ever, with more than 1,250 schools across all 50 states and D.C. using the program, engaging 90,830 students (73% of whom are in middle school). The 1,582 teachers who deployed INSPIRE in their classrooms gave the program a 70% year-over-year school retention rate - a truly impressive number in an education segment characterized by frequent changes in curriculum.
Remarkably, in April and May of this year, during the peak of the school closures, INSPIRE use actually increased by 15% as many parents looked to the program for its student-guided lessons. Since it was launched in 2014, more than 364,000 K-12 students have participated in the program.
E-Fest Goes 100% Digital
A robust 1,775 unique registrants (largely college engineering students) representing more than 300 universities in 47 countries logged into ASME's first-ever all-digital E-Fest, and the E-Fest YouTube channel registered over 10,000 views during the event, and thousands more since then.
"The overwhelming success of the virtual E-Fest is convincing evidence that future versions of this signature event will incorporate more online participation," said Anand Sethupathy, the ASME Managing Director in charge of philanthropic programs. "What began as a response to the coronavirus pandemic actually expanded opportunity for students around the world to participate, many of whom would not have been able to attend an in-person event."
Digital E-Fest videos posted to YouTube garnered nearly 11,000 views in just three days in April, with many more views since then. In a survey after the online event, fully 94% of participants said that Digital E-Fest met or surpassed their expectations, and the same percentage said they are likely to participate in a future E-Fest.
CAREERS THAT MATTER
New ASME Career Engagement Center
A new initiative, the Career Engagement Center (CEC), is a digital platform for primarily early-career engineers to explore professional pathways; define and track goals; connect to employment, volunteer and mentoring opportunities; and gain forward-looking insights into industry.
Rising engineers contend with a vast array of career, volunteer, and post-graduate training alternatives, often with no clear sense of the best next step or how to land that all-important first job. From ASME's standpoint, the CEC taps into the Society's human capital, a powerful combination of geographic reach and technical insights, coupled with existing data and algorithms to meet the needs of early-career engineers.
Here's what volunteer leaders engaged in the project are saying:
"The magnitude of the possible impact is what gets me excited about this project. It's a great platform that will offer unique insights about the job market and career paths for thousands of engineers worldwide, helping them advance their careers and have a clearer vision on how to get to their goals."
- Omar Kheir,
Product & Business Intelligence Manager at EPCOM®
"The CEC presents a unique opportunity to fully explore the white space in engineering career development. Coming from the startup world, I get very excited and drawn when I see a meaningful project with growth and scale potential. The impact of the platform will be tremendous, and the CEC can help thousands of engineers like me find our place in the new era."
- Simon Pun,
Materials Engineering Leader, Divergent Technologies
"I envision CEC as a tool that will help Early Career Engineers navigate the realm of engineering career options, and facilitate informed judgements on the unique training and skills required for each as well as global recruitment trends and future demand in the market."
- Khosro Shirvani, PhD
Assistant Professor, Farmingdale State College;
Member-at-Large, ECEPC
The CEC development process is well underway, with content maps and initial wireframes in process. Meanwhile, the ASME Foundation is pursuing sustainable funding for this new initiative. With its potential to spur a future-ready, multidisciplinary workforce, the CEC is attracting interest from prospective industry funders.
IDEAS THAT INNOVATE
The ISHOW Must Go On(line)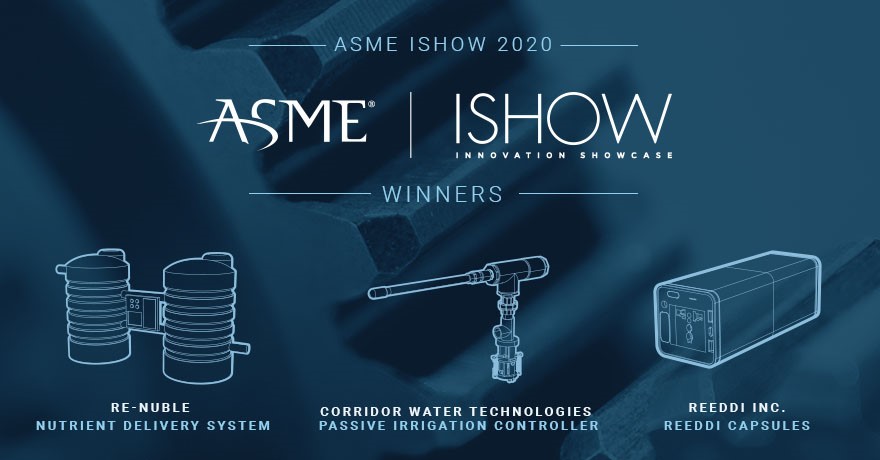 Three life-changing inventions took top honors at the U.S. version of the ASME ISHOW 2020, held entirely online from June 23-25.
Eight socially minded teams of inventors from Canada, Chile, and the U.S. presented their design prototypes in a virtual event. Three inventors emerged as regional winners who will share $30,000 in seed grants and receive technical support to help bring their design innovations to market.
The 2020 ASME ISHOW USA winners are:
Corridor Water Technologies

(Toronto, Canada)

for its

"Passive Irrigation Controller"

- a solution focused on controlling agricultural water use for farmers in developing countries with limited water resources.
Reeddi Inc.

(Toronto, Canada)

for its

"Reeddi Capsules"

- a proprietary patent-pending energy generation and distribution technology system that integrates smart data harvesting and analytics technology.
Re-Nuble

(New York, NY, U.S.)

for its

"Nutrient Delivery System"

- a patent-pending nutrient delivery system producing fertilizers that are two times more cost-effective than the dominant soilless fertilizers and enables soilless farms to produce certified-organic food.
"We are proud to offer a forum for engineering problem-solving that truly improves lives," said ASME Executive Director/CEO Tom Costabile. "We are continually impressed by the creative talent of ASME ISHOW participants and their passion for helping underserved communities around the world."
ASME is grateful to The Lemelson Foundation for its continued support of the ISHOW as the Impact Inventing sponsor, and to ISHOW implementation partners around the globe.
All of the ISHOW USA finalists' product pitches can be viewed on the ASME ISHOW website. ISHOW Kenya was held in May; ISHOW India took place in April.